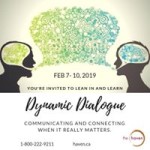 In our lives today — at home, at work, in our communities and the world — the need for dialogue is both important and urgent. The health and well-being of all of us depends on it.
Dialogue brings us together in relationship, allowing us to reach new understanding and find a new place from which to think and act together — even when we have fundamentally different points of view.
If you are getting stuck communicating, this is the program for you!
Are you willing to learn something new?
Is your communication having a very different impact than the one you intended?
How do you feel when you imagine you are heading into a conflict?
Do you have a relationship that matters to you where you are completely missing each other?
Are there times when you hesitate to speak, or act? Is your inner dialogue stopping you?
Are you looking for more closeness and meaningful connection in your life?
Learn to get clear on your intentions, listen more fully, show up, and go deeper in communicating about what really matters to you. Get coaching in navigating difficult conversations and conflict. We'll support you to explore your assumptions, look at the impact of your communication and make new choices.
This program delves deeply into The Haven's Communication Model…and beyond.
We believe when people are willing to engage fully and communicate self-responsibly, lives are transformed.
Join me, Cathy McNally and Jennifer Hilton this February 7 – 10th. https://haven.ca/program/session/dynamic-dialogue-feb-7-feb-10-2019